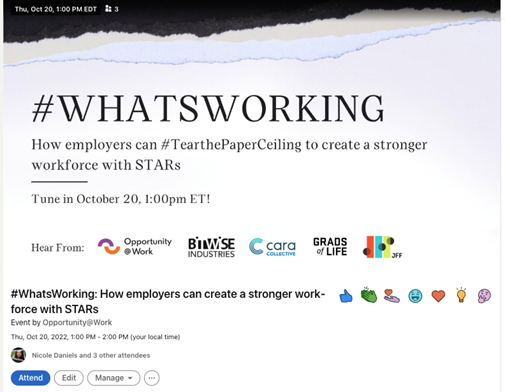 Recently, Laura Maristany, Vice President of External Affairs at Bitwise Industries and BLU member joined a conversation live on Linked In about how employers can make tangible changes to the hiring and recruiting process to support hiring of workers who have skills training, but not a two- or four-year degree. These workers are sometimes called STARs (Skilled Through Alternative Routes).
A growing body of research suggests that more than half the workforce already have the skills to succeed in higher-wage roles, but are locked out of opportunity because they lack the bachelor's degrees that are so often inaccurately equated with job readiness.
Laura joined other experts from national workforce organizations, as well as employers and workers themselves to explore the concrete strategies that help businesses find the talent they need and convert their goals of more equitable and inclusive hiring into action.
The panel included:
Lara Bach, Director, Advisory Services, Grads of Life
Lawrence Johnson, Assistant Facilities Manager, The Bazaar (Participant of Cara Chicago)
Brandi Mandato, Senior Director, Center for Justice and Economic Advancement, Jobs for the Future (JFF)
Audrey Mickahail, Vice President, Insights Services, Opportunity@Work
Moderated by: Ramona Schindelheim, Editor-in-Chief, WorkingNation