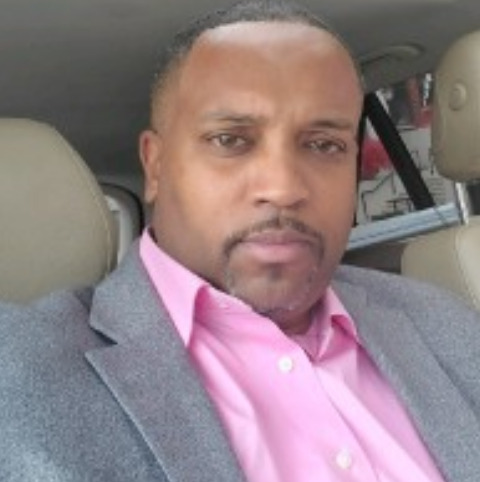 Nexus Technology Services is a small business based in Grand Rapids, Michigan. The company has been a leader in the technology industry in Michigan for more than 15 years. Nexus is proud to say that it's company policy to ensure all team members, specifically those who do not typically receive opportunities to be a part of the fast-growing technology industry, have a valued position within the company.

"Not meant for a career in tech"

The tech field has long struggled to diversify the pipeline of workers entering the industry. "Since tech-related programs weren't offered at the local school, many students (often black and brown youth) felt that it wasn't a career meant for them," says CEO Greg May Jr.

That's why Greg worked to create awareness within Nexus' local community about the varied opportunities and career pathways in the technology field. His efforts included debunking beliefs about the technology industry that kept people from considering tech as a career aspiration.
Technology is much more than just coding. At Nexus Technology, employees have a broad range of opportunities to engage in tech work including AV, systems, software development, website development, etc.
You don't have to be a super genius to enter the tech field. There are careers at Nexus Technology and in the broader tech field for people with a range of skills, education, training, and career goals – and that diversity of skill is well represented in the varied backgrounds of Nexus staff.

Having to fight back against an already-established narrative within the Grand Rapids community was what inspired Greg to make a commitment to recruiting and hiring a more inclusive team that more closely reflected the demographics of the city and region.

That effort paid off for the community and for the business. Post pandemic, field technicians are in high demand throughout the country - but Nexus isn't having trouble recruiting. Greg attributes that to the company's work with the community to make this industry accessible. Rather, they have a steady stream of applications from people interested in working for Nexus. An entry level field technician earns anywhere from 15 to 25 dollars per hour. Those that start at 15 dollars an hour have a path to earning $20 dollars an hour over 60-90 days. That salary allows many people to jump into a new earnings bracket – and to many, that change is life changing.
"Technology is the new trade"

Nexus Technology Services hires people with a wide scope of backgrounds – ranging from those with no experience in technology to people who have worked in the field for years. To upskill the employees who are just starting in the field, the business has devoted resources to workforce development practices often seen in the trades (things like on the job training paired with certifications). Learning is hands-on and employees are often ready to take certification tests based on their experiences in the field. This hands-on approach gives employees the confidence to feel comfortable and prepared to pass all testing requirements.

The business is also connected to their local workforce board, West Michigan Works, the local workforce investment board, which provides the business with access to funding opportunities like GoingPro. Going Pro is a Michigan-based talent fund that makes awards to employers to assist in training, developing, and retaining current and newly hired employees. Training must be short term and fill a demonstrated talent need. It must also lead to a credential for a skill that is transferable and recognized by industry.

The very nature of the technology industry is change - for Nexus to sustain and compete in the long term, the company must be thinking about a talent pipeline for skills, positions, and careers that don't even exist yet. That's why Greg has also connected to several youth initiatives designed to bring awareness of the possibilities in the tech industry to students in the surrounding communities. The initiatives include Grow 1000 a summer employment program for young people ages 15 to 24 and New City Kids: GR an after-school program for low-income youth.
Secret to success

Greg pointed out several key pieces of advice to others looking to diversify their talent pipeline:

1. Offer opportunities for job shadowing. Job shadowing doesn't just mean following around a field technician for the day, it means understanding the long-term outcome of a project and being involved in that in real time. This allows people to envision a concrete career pathway beyond the entry level position where they start.
2. Allow for quick wins. Entering a new field can be intimidating for anyone, that's why it is important for leadership to identify quick wins for new staff. This can be as simple as noticing and congratulating the worker on their efforts within a project.

3. Understand how skills can translate to different fields. Some of Nexus' most successful employees have come from the hospitality industry. Their communication and managerial skills have allowed them to be easily trained in the IT field. Many quickly moved into management as they gained experience in tech.

4. Be open to workers who have willingness and curiosity but maybe lack technical skills. Traditional ways of recruiting and hiring in the tech industry have not been effective at creating an inclusive, diverse workforce. That is why it's time to take a step back and be intentional about the use of effective DEI practices within the hiring process. The willingness to offer positions to people who exhibit a genuine interest in the field but may not have the traditional qualificationshas given Greg some of his best hires.

5. Be transparent about opportunities for advancement. Show your employees the entire continuum of a career pathway within your industry. That may mean showing employees career pathways that lead to other companies. Understanding that the opportunities for advancement are in reach allows the employee to push towards a future that is in sight for them.

6. Be flexible with schedules. People have a lot on their plates. If there are ways to stagger schedules so people can go to school during the day and work on projects in the evening, be flexible. This may not work for every industry, but it shows the employees that you care not only about the work being done but the person themselves.