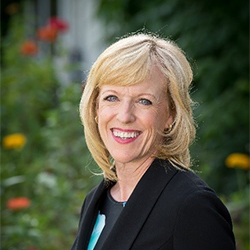 Traci Tapani
Co-President
Wyoming Machine, Inc.
Traci Tapani is Co-President of Wyoming Machine, Inc. Traci became an owner of Wyoming Machine in 1994 and has shared the position of President, with her sister Lori, since 1997.
Traci is actively involved in volunteer activities that promote math and science education, technical training, and careers in manufacturing. In 2014 Traci was honored by The Manufacturing Institute with the Women in Manufacturing STEP Award for demonstrating excellence and leadership in Manufacturing and in April 2015 Traci participated in the Upskill America Summit hosted by the White House. Since, then she has made many trips to Washington, D.C. advocating for strong workforce development policy and in May 2018 she testified on this topic before Congress. Minnesota NAWBO (National Association of Women Business Owners) awarded Traci and her sister, Lori, with a Lifetime Achievement Award. Traci currently serves as Board Chair at the Initiative Foundation, serves on the board of the Minnesota Chamber of Commerce, and recently completed a 3-year term as an appointee to the Minnesota Governor's Workforce Development Council.