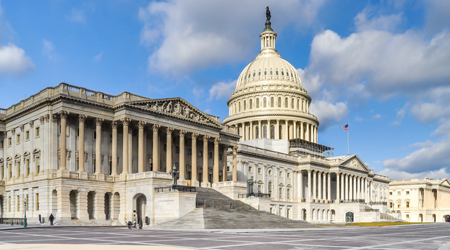 On Wednesday, twenty-five business leaders from six southern states (Tennessee, Georgia, North Carolina, Texas, Mississippi and Alabama) came to Washington, D.C. to advocate for investments in apprenticeship and training programs that prepare workers for in-demand fields.
The business leaders, hosted by Business Leaders United (BLU) and Georgia BLU, held more than 33 meetings with their Senators and Representatives, staff from Speaker of the House Paul Ryan's office, as well as with leadership from the House Ways and Means and Education and Workforce Committees. The employers urged policymakers to invest in the skills of America's workers with the goals of closing the skills gap and developing a pipeline of skilled, trained workers that can meet the demand of growing industries. They shared their workforce challenges, especially their inability to find enough skilled, trained workers. And, they urged key lawmakers to improve the way apprenticeship and career and technical education works so they better align with the needs of businesses.
Apprenticeship and work-based learning helps both companies and their workers - companies develop qualified and loyal employees while employees earn certificates and credentials that lead to higher wages.
Unfortunately, federal policies don't make setting up apprenticeships and work based learning programs easy. So the employers, together with representatives from chambers of commerce, urged Congress to support the PARTNERS and BUILDS Acts that would do three things:
Invest in sector partnerships and intermediaries that help small- and medium-sized businesses work together to develop training programs they could never afford to develop on their own;
Incentivize investing in work-based learning. The initial cost to set up apprenticeships and on-the-job training are a hurdle for many small and medium-sized companies. Targeted subsidies and tax credits that help offset company costs make it easier for companies to train new apprentices and upskill their existing workforce; and
Establish a support fund that helps move those with minimal job experience, including young people, into apprenticeship opportunities.
The employers also urged policymakers to pass the JOBS Act, which would update the Pell Grant program to make it work for working students and employers. Millions of middle-skill jobs require more than a high school diploma, but not a four-year degree. While there are many postsecondary credentials that help people learn in-demand skills and help businesses hire the skilled workers they need, our financial aid system discriminates against students enrolled in many kinds of short-term or noncredit training programs – even though they prepare students to work in growing industries. Employers urged Congress to change this by
Making short term occupational certificate programs and noncredit programs eligible for Pell grants.
Encouraging and investing in industry partnerships to make sure training programs have strong connections to regional employers and local labor markets.
The following companies took part in the fly-in:
Kamtek and Magna – auto body suppliers located in Birmingham, Alabama
Genuine Parts Company is also an auto body supplier located Atlanta, Georgia
Holder Construction Company located in Atlanta, Georgia
Whitaker-Taylor, a business management consulting firm in Atlanta, Georgia;
Custom Plastics and More, a plastics manufacturer in Winston, Georgia
Entergy Corporation, an energy company with presence in Jackson, Mississippi
HAECO Americas, an aerospace manufacturer in Greensboro, North Carolina
Groninger USA, a maker of customized machines for the pharmaceutical and cosmetics industries in Charlotte, North Carolina
Skanksa, a construction and development company with headquarters in Nashville, Tennessee
ARM, a software design firm with offices in Austin, Texas
Carolinas Healthcare system, located in Charlotte, North Carolina
Certain Affinity, a tech firm located in Austin, Texas
They were joined by representatives from the Birmingham Business Alliance, The University of Alabama Birmingham, the Douglas County Economic Development Authority, the Jackson Partnership, The Mississippi Economic Council, the Tennessee Baord of Regents, and several chambers of commerce - Metro Atlanta and Cobb, Georgia; Austin, Texas; Nashville Area, Tennessee; and Greensboro and Charlotte North Carolina.
Resources: